I have a peach hallway and I hate it.
I have nothing against peach. My pal
Michelle
has a well-executed peach guest room. It's a cheery shade of light peach on the walls with black and white furnishings. It is well-planned, intentional peach. My peach hallway was not well-executed. It looks more like "I found this can of random peach paint on the oops shelf at Lowe's." The peach color on the walls is what I would call "country peach". If you've read my repainting adventures before, you'll know this house has no shortage of tan trim - even in the hallway. Yep - flat country peach walls with flat tan trim. Sorry for the poor picture quality. It's partially because of the terrible paint and partially because my camera batter is charging so I used my phone!
I have a real loathing for trim painting. So, rather than go nuts over the trim, I simply bought a shade of tan very similar to the tan (Glidden's Dapper Tan - cute name!) that was already there. I used this similarly shaded semi-gloss color to quickly freshen up the trim. Then I continued the Antique Beige (also Glidden) from my dining room up the stairs and down the hallway. Perfect!
And, because I walk that hallway every morning - the wall art has purpose. The first piece was a gift from Michelle for my birthday this year. She snagged it at
Vol25
, and I want just about every other print in that shop!! It says "I will be grateful for this day," over an image of clouds and rain. A reminder to be grateful for every day - even the stormy ones.
The second was a decal I chose. Obviously most people wouldn't think a fire alarm is a good centerpiece for wall art, but oh well. I like being reminded when I walk downstairs that every day holds the possibility for a miracle. I still believe that my God is a God of miracles!
This morning, I visited Lowe's and bought some fabulous blue paint for my bedroom! I'm so excited to get that room painted and I can't wait to share it with you! I will be attempting my first ever accent wall!
How can you...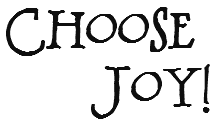 today?