Welcome to the newly revamped blog! I originally titled this blog "The Space Between", because that's what it was. It was the place I wrote about the stuff I did filling space between "Life is about grieving" and "Life is about living"...the space I filled with lots of repainting and DIY projects! As I started planning this
blog redo
last week (when I was supposed to be studying for my big grad school exam - oops!) I felt a little guilty. I sometimes look at others around me who have lost loved ones and are still very much in the midst of their grief and feel guilty that I am mostly past that all-consuming grief stage and have come to a place of peace and contentment. Yes, there are still times when I am sad, when I miss Isaac, and when I feel deep grief. But, I'd say 98% of the time now, I feel peace and contentment.
I was reading the book "Calm My Anxious Heart" by Linda Dillow. She says at the very end of the book that
"Contentment is a holy place. Contentment becomes an act of worship. The soul worship of God is to be content with what He gives, to be thankful in all things. Peace wraps around your heart when you're able to trust God."
I realized that this peace and contentment that I feel is an answer to prayer. Back before Isaac and I got married, I began praying that God would give me peace no matter what news scans or doctor visits gave us. I prayed to be content with my circumstances, no matter what they were. God, in His undending faithfulness, has answered those prayers in the midst of one of life's most difficult circumstances.
This morning, my alarm didn't go off. I woke up at 10:41, and even the late service at church started at 10:45. I lay in bed for a moment and figured I'd just miss church. But, I felt the urge to get up and go. I washed my face, threw on some clothes, said a quick prayer of thanks that Starbucks makes instant coffee, and ran out the door. Boy, am I glad I made it to church! The topic of the sermon was "
Fear of Dying
". Most people wouldn't think this would be a happy message. I, however, sat through the entire service with a grin on my face. It was an absolutely awesome message and totally affirmed my feelings of peace and contentment! The walkaway point for this message was: Jesus has given us freedom over fear of death! For me, Jesus has given me freedom over my grief as well. The fact that Isaac and I both have the same Savior is FREEDOM. It means that we are still both worshipping the same God, it means that one day we'll meet again in Heaven, it means that Isaac is FREE from the trappings of this world, and it means that I am FREE to live this life on earth while God still has me here! When Paul writes to the church in Phillipians, he talks about choosing between death (and being in Heaven with Christ forever) or life. I have to agree with the conclusion Paul comes to.
"As long as I'm alive in this body, there is good work for me to do. If I had to choose right now, I hardly know which I'd choose. Hard choice! The desire to break camp here and be with Christ is powerful. Some days I can think of nothing better. But most days, because of what you are going through, I am sure that it's better for me to stick it out here. So I plan to be around awhile, companion to you as your growth and joy in this life of trusting God continues." (Phil. 1:22-26)
So, I've changed this blog name to "Get Busy Living", because life isn't about grieving anymore. Life is about living...and a little bit about repainting. ;-)
As always,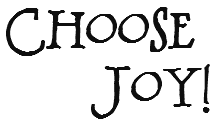 Shared this with
http://www.chattingatthesky.com/
!