Have you heard of the book "Reshaping It All"? If not, maybe you've heard of Candace Cameron Bure? If you haven't heard of her, surely you remember DJ from "Full House"? Well, DJ is all grown-up and has recently published the book "Reshaping It All"!
In "Reshaping It All," Candace inspires "

women to embrace a healthier lifestyle by moving faith to the forefront, making wise choices, and finding their worth in the eyes of God.

"

(from the Reshaping It All website)
The book is similar to Lysa TerKeurst's awesome book "Made to Crave". I've read both books recently, and the key thing I have gotten from both books is the idea of linking my relationship with my health (nutrition, fitness, sleep, etc.) with my relationship with the Lord. I know, this is kind of a "DUH" type revelation. As in - why have I not done this before?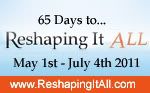 ReshapingItAll.com is doing a 65- Day event led by co-author Darlene Schacht! The 65 Days starts TODAY! Every day, Darlene and Candace will share a post that may include an article, video, or challenge. They will be reading through 2 chapters of the book a week, but you don't have to have the book to participate.
I'm signing up and will be blogging along...are any of you?