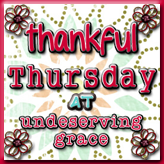 I told you on Tuesday that I'd explain a little more about why I'm participating in "Thankful Thursdays" this summer.
This past year was full of challenges - to say the least. Outside of still working through grief, the school year was a challenging one. Overall, this was one of the most difficult groups of students I have had in 8 years of teaching. For the most part, I really did have GREAT kids this year. But some of these poor young people, are going through some really rough things at home - it's no wonder they don't care about their homework.
As the year wound down, I found myself getting more and more grouchy. It was harder to get out of bed in the morning, it was harder to put a smile on my face, and it was a whole lot easier to complain.
Enter "Thankful Thursday"...because I can't take the grumpiness anymore! I need to get myself back to focusing on the positive!! Each week this summer, and possibly after, I'll share something or someone that I am grateful for.
This week, since school just ended, I have to give a big "SHOUT OUT" (complete with spirit fingers) to my amazing team. The people I am blessed to work with every day were absolutely the reason I DID get out of bed every morning. Eric, Gary, Carissa, Ange, and Kim - 5 people who are some of the most dedicated, professional, intelligent, caring, and FUN people I know. These people would do ANYTHING they could to help the students we work with. I couldn't have made it without you guys!
And so I dedicate this song to my team:
Wildcats everywhere
Wave your hands up in the air!
(hahahahahaha)