No, I did not make a wreath that cost $170. I did, however, make a wreath that cost under $10. My inspiration was this wreath: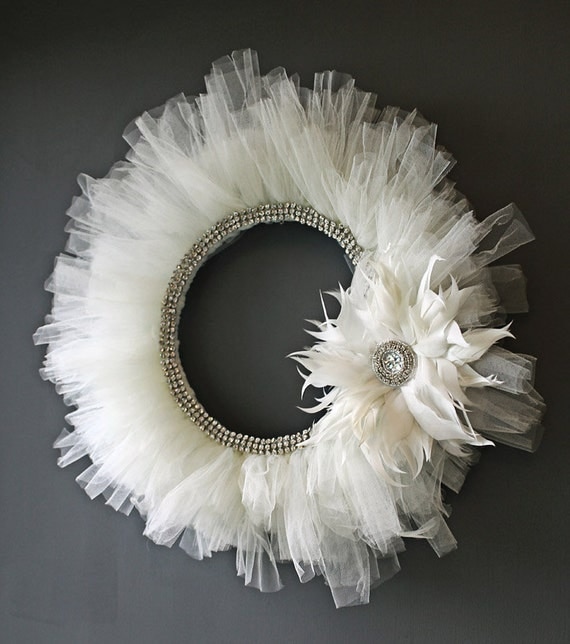 I spotted it on Pinterest, and when I followed the link to the Etsy shop I was SHOCKED at the price. $170??? I don't understand. Why is this wreath so expensive??? Are those real diamonds? Haha! So I set out to make my own for MUCH less than $170.
I started with the outside of an embroidery hoop. I had it left over from my crayon wreath!
I painted the hoop white and tied the ends together with a little ribbon that will also serve as the wreath hanger.
Then, I cut 10 billion pieces of tulle. Okay not quite 10 billion. But it was 50 yards of white tulle (about 6 inches wide, $4.99 a 25 yd spool at Hobby Lobby), cut into 12 inch sections. It was a LOT of tulle. I don't have a picture of all the tulle, but I do have this picture of one of my cats watching the tulle very carefully. She really wanted to eat it.
Next came the tying process. I just tied double knots in the center of each piece around the edge of the hoop.
After that, I hot glued some shiny stuff onto the center. I chose a piece of tinsel ribbon (found in my ribbon stash) and a string of silver beads ($1.49 at Hobby Lobby).
One more addition I need to make is to attach some sort of snowflake to help signify that this is a winter wreath and I did not, in fact, just hang a tutu on my door.
Voila! $170? Puh-lease. Try under $10! And it wasn't even time intensive. It took about 1 episode of House Hunters followed by 1 episode of Cupcake Wars to complete this. Also known as, 1.5 hours.