I've heard it said many times that running is a "low-maintenance" sport because you don't need a lot of "stuff" - a good pair of shoes and some sweats is all you need to run! Well, anyone who has been a runner for awhile will tell you that's not true. We runners actually can be a fairly high maintenance group! Yes, at its core, running doesn't require anything more than sneakers and gym clothes - but, in my year of becoming a runner I have found that there are some items that make my runs easier. I thought I'd share some of those things with you today!
1. My SpiBelt
First of all, let it be known that the Spibelt is NOT a fanny pack. It is a "small personal item belt". Totally NOT a fanny pack. I have 2 of these non-fanny packs. I bought a plain one several months ago and I have worn it for literally every single run I've done since I bought it. At the Baltimore Half Expo, I bought a second SpiBelt - one that is water resistant and has loops to hold gels. The SpiBelt looks small, but it stretches enough to fit my iPhone, a gel, extra gum, and my headphones. It stays put on my waist and doesn't bounce at all. It's a great alternative to an arm band!
I'm wearing it under my shirt in this picture and you can't see it. If it WAS indeed a fanny pack, you'd totally be able to see it. Told you it wasn't a fanny pack.
I haven't listened to my iPod playlist during a run since I downloaded this app. It is AWESOME! RockMyRun is an app that provides DJ created playlists specifically for running. You can search by genre and then choose a playlist based on the length or the beats per minute. Mixes under 45 minutes are FREE (yes - seriously, FREE) and you can get mixes over an hour for a small fee. I paid for the 3 month "training" membership - $12.99 for 3 months. I've run to a different mix almost every long run and it's fun not knowing what's coming next, and being surprised with fun songs!
3. Gum
This really doesn't require a lot of explanation...but I really can't run without gum. It helps me feel less thirsty. I used to HATE fruity gum, but I found that mint gum mixed with Gatorade or NUUN is a terrible tasting combination, so I learned to love fruity gum when I run. Specifically Trident Island Berry Lime.
4. NUUN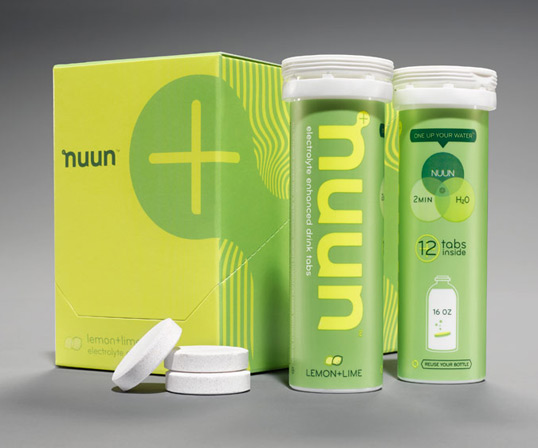 I've written about my quest for the best hydration additives before, so I won't spend a lot of time on this one. But, I ended up using
NUUN
through all of my training runs for Baltimore. It doesn't have a sticky sweet taste, transports easily, and I could divide the tablets in half and put one half in each of my 8 ounce bottles when I was doing long runs. Plus they have a bunch of flavors! (local folks - they sell it at Vitamin Shoppe, Flying Feet, and maybe also Dick's but I'm not sure)
5. Foam Roller
The foam roller - oh it hurts...it hurts so good though. I actually have 3 of these - one in my living room, one in my den, and one travel sized. The foam roller is
used for self massage, which is great since I don't want to drop a bunch of money getting a massage every time I run! I roll my quads, hips, hip flexors, and any area that feels sore or has knots. I spend a lot of time in the position pictured - rolling out my IT band. It's painful, but feels SO much better when I'm done!! Read more about foam rolling
here
!