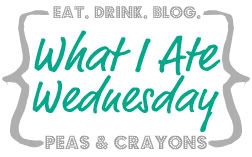 Hello and happy Wednesday from chilly PA!

Like much of the country, we've been experiencing some super cold temps this week! But don't worry, that didn't stop me from getting in my training run yesterday! I put on plenty of layers, including duct tape over the toes of my shoes (helps keep the toes toasty so the wind doesn't get in!), and headed out in the afternoon. The sun was shining, and it was cold out but I was plenty warm in my layers!
Today is Day 8 for me of the "
21 Day Sugar Detox
" (21DSD)! I'm not normally one to stick with these types of programs for very long, but I'm having no trouble with this one so far! The 21DSD is along the lines of a Paleo, lower carb/higher protein program.
It addresses sugar and carb cravings - why we get them, and how we can get rid of them.
I'm an advocate of just eating clean, and not following specific programs, but I needed this program in my life! When I found myself on my EIGHTH iced sugar cookie in one day, I knew I needed a change. I'm going to post a little more about the 21DSD, my thoughts on the plan, my feelings before/during the plan, and stuff later this week. Check back with me!
Today, however, is WIAW - What I Ate Wednesday! So here's a day in the life of the Sugar Detox! (all recipes are in the 21 Day Sugar Detox book)
Breakfast
Broccoli Herb Egg Cups
Root Vegetable Hash
1/2 Avocado (sprinkled with cumin and garlic salt)
Coffee with whole milk
Lunch
Spaghetti Squash
Turkey Marinara Sauce
Steamed Broccoli


Dinner
Mustard Glazed Chicken Thighs (these are AMAZING)
Creamy Mashed Cauliflower
Roasted Brussels Sprouts


AM/PM Snack
1 oz Kerrygold Dubliner cheese
1 oz Blue Diamond Smokehouse almonds
1 green apple
(I split this snack in half and had half of it in the morning and half of it in the afternoon)


Dessert
Almond Butter Cups
Another challenge I'm taking on during January is the 30 Day Yoga Challenge at
DoYouYoga.com
! Each day, they share a 15-20 minute yoga video. My "Fab Five" running friends are all doing it (thanks Laura for getting us started!) so we text each other to check in! It's been great having some yoga back in my life, and the videos are well done and easy to follow!