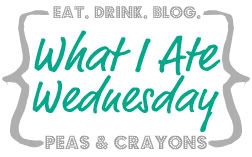 Sometimes I bypass blogs where people share their food, sometimes I love them. Since I've been happily back in the kitchen this past week, I decided to share some of my latest eats with you!
Afternoon pick-me-up -- 1 cup cold brewed coffee, 1 tbsp So Delicious Hazelnut Creamer, a few drops of Stevia, lots of ice -- blend!
Brunch -- leftover roasted root veggies (parsnips, sweet potato, beets) topped with 2 eggs, and avocado sprinkled with smoked paprika.
Salad -- mixed baby greens, arugula, grilled chicken, jicama, apricot, cucumber, drizzled with coconut balsamic vinegar and vanilla balsamic vinegar. (I got both of them from
Olio
)
My first ever bison steak! I marinated it in some coconut aminos (a soy sauce substitute) and some spices and then grilled it. Served with sweet potato, asparagus, and watermelon/jicama salad (chopped both up, tossed with lime juice and chopped mint)

Black iced coffee + eggs scrambled with veggies (kinda boring!)
Last night, I ate dinner around 5:30 and then went to yoga 6:30-7:30. I was meeting friends to run at 8:30, and wanted a little snack. I stuffed 2 Medjool dates with a tablespoon of Squirrelly Tail -- my favorite
BSNB flavor
!!
Another breakfast - I made this
Paleo-friendly "English muffin"
(which is really easy!!) for an egg sandwich and served it with a side of fresh watermelon.